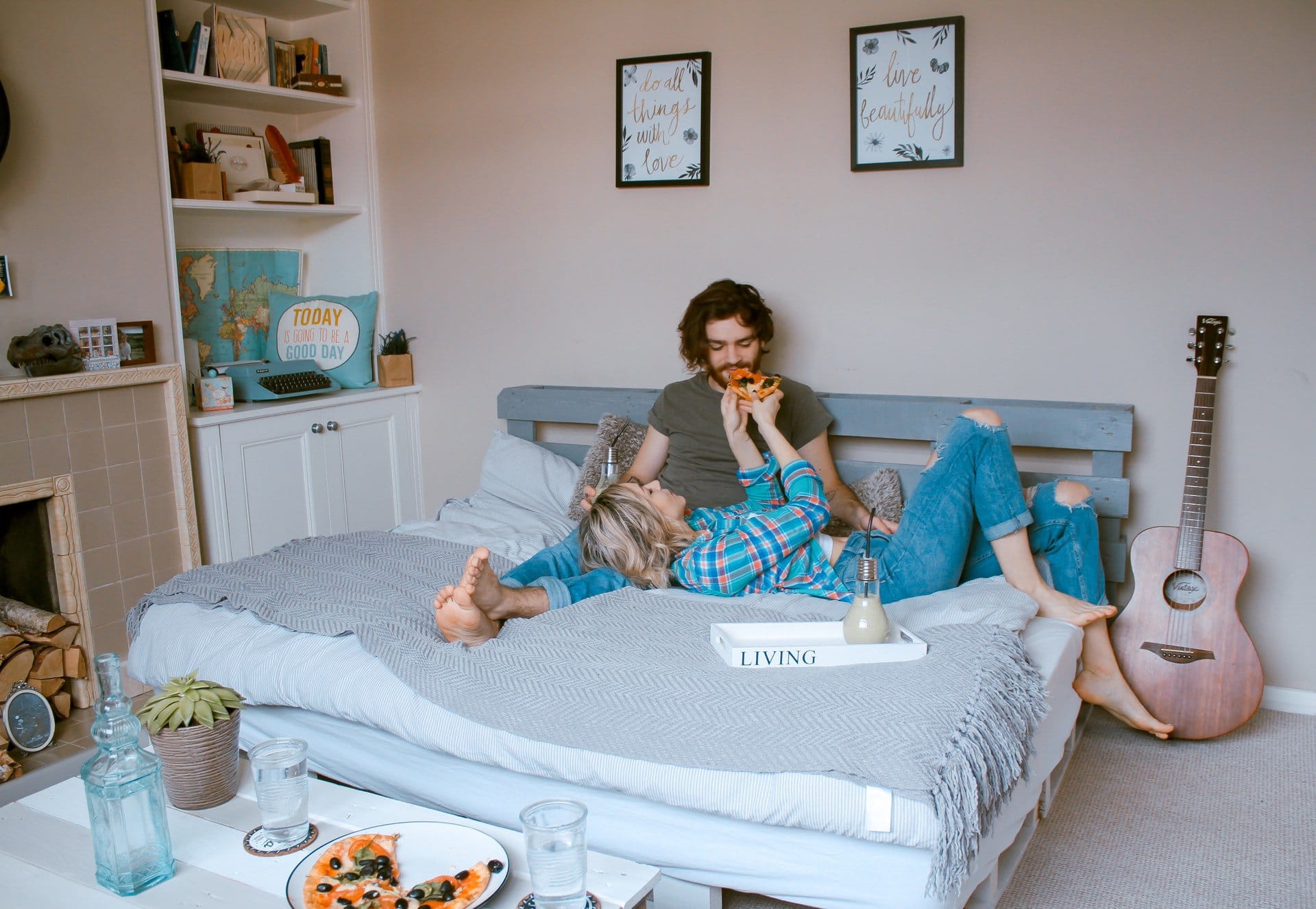 I think we can all agree 2020 was a challenging year. It's been a year since the first cases of the Coronavirus surfaced, almost a full year since the early shutdowns, and we don't yet know the extent of the fallout. Everyone's spending more time at home than usual, working from home, exercising from home—more people are even homeschooling as we do with our boys. Life is different.
Perhaps because you're home more, your normal rhythm of date nights has been disrupted? Regardless of where you're at, making that time is vital for the health of your relationship. Maybe you used to love going to the movies together, but movie theaters are out en masse. Maybe you used to love to go to concerts together, but there are no concerts to be had. 
How do you stay at home and still date meaningfully? Moments aren't meaningful because of where you are; moments are meaningful because of the intentionality behind them. Your date nights don't have to lose their luster because your scenery hasn't changed in a few months. You can go very far away just by going into the next room if you just put a little intentionality into it. 
1. Make Time
To give you context into our household, my wife and I are both working at home, and—as I mentioned—we homeschool our two sons, Nathan (12) and Noah (10). My mother-in-law also lives with us. We have a full house and active days, but we make time for our family and each other. 
Our evenings start around 7:00 pm when we watch a few shows as a family until the kids go to bed around 8:30. Until 10:30, there are shows Juliette and I watch with my mother-in-law. From 10:30 until midnight, there are shows Juliette and I watch together, and we play Chinese Checkers. But Friday is special—Friday is our date night. 
Even though we're doing pretty much the same thing, Chinese Checkers feels different on Friday night because we've decided it's Date Night. It's a simple mental shift, but it makes all the difference.
2. Be Intentional & Get Creative
If you cannot go out like you used to, but you still want to have a quality date, you still can, whether you're in a one-bedroom studio apartment or a 7,000 square foot–house. Set aside a space to become the place where you spend meaningful time with your spouse. 
It doesn't matter if you're warming up TV dinners on the couch like you do every night—light candles, turn off all the lights, set your Spotify playlist on the speakers, and make it feel different. It's all about the intentionality of the moment.
If your go-to date night was dinner and a movie, recreate that same atmosphere. Say there's a movie you haven't watched yet. Girl, change into that cute outfit. My man, put on her favorite pair of chinos and a button-up. Make a night of it. Maybe add an intermission and pop some popcorn, grab a dessert, or talk out your thoughts from the movie. 
If the couch has gotten tired, shift your scenery. Take a laptop or tablet out to the porch or spring for a projector and put the movie up on the fence to make your backyard feel like a drive-in movie theater. This year is the perfect time to get creative and let your imagination run a little wild.
3. Small Nuances Make All The Difference
A few nights ago, after watching our shows, I went into our room to go to sleep. Juliette was lying across the bed with the Chinese Checkers board in the middle of the bed. She said, "I want a game before we go to bed." I loved it!
It was just this small nuanced difference in our evening routine, but it made an impact. We don't play board games in bed! But she brought the board into the bedroom and put it between us. It was a cool thing to do as we wound down from our day, and it added this cute little wrinkle in an otherwise mundane night.
4. 5 Creative Ideas for Date Nights at Home
Need ideas? I'm so glad you asked… I've got suggestions. But don't stop here! Put your own twist on your night and make it unique to you and your spouse—you know what you like!
Movie Night: Netflix is supposed to drop 70+ new movies this year—there will always be something new to watch! Cute twists: take the movie to the bedroom, build a fort on your couch like your kids do, or watch it outside. Pop some popcorn and pull up the latest release or start a multi-night watch party to introduce your spouse to an old favorite.

 
Game Night: Spice up your usual board games or puzzles by adding something new to your roster. Switch from board games to playing a video game together if you have a gaming system. Try moving the game to the bedroom or even the floor in front of the fireplace. You could even up the ante for the win and make a running list of prizes like a massage or making dinner for the other person.
Go Outside: Set up that old tent or fill your kids' inflatable pool with blankets and spend a few hours in the quiet of nature with your spouse. Go on a walk at night, watch the stars, talk about your day, write your marriage bucket list, dream together.
Creative Night: Stoke the fire and read together. Do something new and try painting each other's portraits or writing poetry. Find something you've never done before and take turns deciding what you do.
Night of Luxury: If it's been a while since your last vacation or you're worried about traveling, pull out all the stops at home—send the kids to grandma's, order a fancy meal, make a charcuterie board (argue over how it's pronounced), light candles all over the house, pour a glass of something bubbly, or draw a hot bath using the good bath bombs. Turn on a mellow playlist and add whatever you need to make the night relaxing and beautiful.
The saying "getting stuck in a rut" gets a bad reputation, but ruts themselves aren't bad. It means you're doing something consistently enough that you've worn a comfortable groove in it. You're comfortable in your situation, in your relationship, with your family—that's a good thing! It's the getting stuck that's bad. 
Yeah, you'll probably still be home more this year, but intentional moments between you and your spouse can still be a priority on your schedule, and they can still be romantic. Use your date nights in 2021 to spark your creativity and find new ways to get a little frisky. See this year as an opportunity to turn every intentional moment from something mundane into something marvelous.